Grow your business with DemoDays.com
Millions of shoppers are on DemoDays.com looking for your business, products, events and more!
Show them why your company stands above the rest.
Join the community and start telling your story on your terms!
Don't get pigeonholed with social media!
Upload photos, videos, press releases - Post coupons, events and contests - Respond to customer reviews and inquiries.
Works in every browser: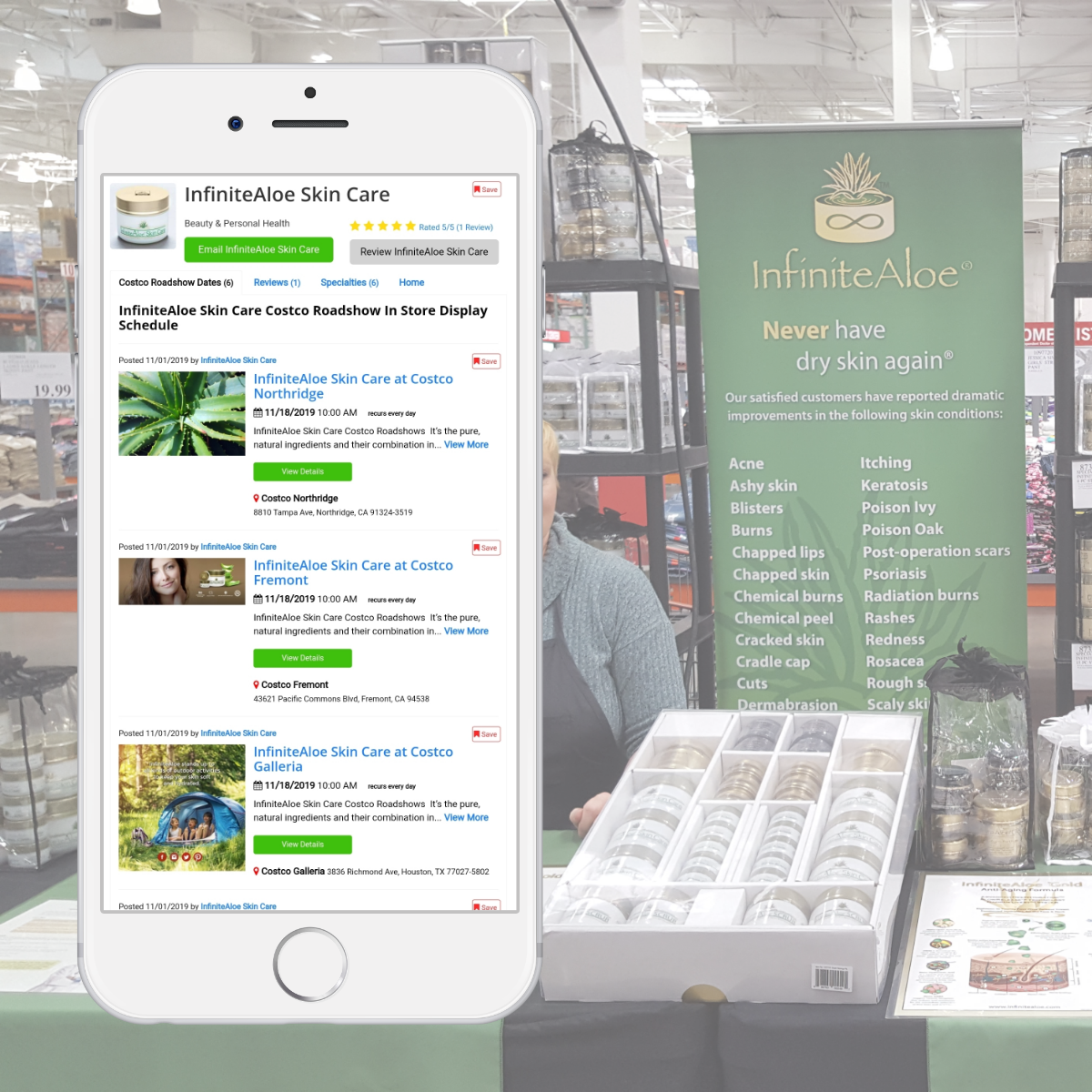 Help customers find you
We're changing the way you capture new customers in today's frenzied digital market.
Our goal is to help your company reach current and non-endemic customers.
DemoDays.com is SEO based and acts as a mini information portal for your company.
Reach New Customers
So what's this all about?
DemoDays was built to help customers find the local and nationwide opportunities to demo, sample and try products at events, local retailers, expos and trade shows. However we are not just event listings!
DemoDays.com is a Gateway for your Company to get More Customers and Sales!
We've exhibited at trade shows, expos and hosted demo days in the bicycle industry and knew how important it was to grab the attention of every person who walked by...but when doing our research, we found that 70% of companies do NOT tell their customers their event schedule - Not even on their own website!
So we created DemoDays.com to make it easy for your company to publish event dates, press releases, product pages, coupons and more as well as capture customer lead information.
Help people know you
Facebook and Instagram can only go so far with content creation and your post will be lost in the ocean of social media unless you spend big time $.
With DemoDays, you can create professional landing pages of content filled with videos, photos, embed contests, lead capturing forms and more.
Post your monthly press releases, new products, coupons and event dates. All with the ability to set custom SEO text data.
Inform customers, offer them a deal and capture their info.
Capture Customer Leads
What type of companies work with us
It's in the name right?..demo days...you're saying to yourself, "This must only be for events."
No! This site is much more than that.
Events and demo days can't happen without a partnership between four business types.
Local Retailers
Around 80% of shoppers still prefer to shop local. Team up with your best brands and promote them on your profile.
Have a brand stopping by for an in-store demo, sampling or product release? Publish it on your profile, offer a coupon and watch in-store foot traffic increase!
Retailers Learn More
Brands
With so many product options, how does your company stand out from the rest?
Your here because you probably exhibit at trade shows, expos and festivals, but are you telling enough people you'll be there and where they can buy your products afterwards?
Brands Learn More
Event Producers
Your event matters, but is it keeping pace and providing local customers with the brands and products they want to see?
The same goes for your exhibitors...are you bringing in the right customers to keep them exhibiting with you each year? Increase attendee ticket sales and exhibitor booth sales with your profile.
Event Promoters Learn More
Venue Owners
Events can't happen without your facilities so let's tell more people about your location, what you have to offer and what events are happening.
You'll not only reach consumers looking for things to do, but also B2B customers and event promoters looking for a place to host their event or private customer experience.
Venue Owners Learn More
Regardless of whether or not your company is doing events, we can help you capture more customers if you can devote a small portion of your time to building a good looking profile and spend a small portion of your marketing budget to promote that content.
What's the goal of all this?
We developed DemoDays.com with two goals;
#1 Make it easier for customers to find events, expos, demos, trade shows where they can see and try products first hand and point them to where they can buy these products.
#2 Help companies utilize their current digital assets to build a website like profile for promoting themselves to get you more customers regardless of business type.
This is accomplished by catering to the 4 business types involved - Brands, Retailers, Event Promoters, Venue Owners.
Each business type benefits from the ecosystem that naturally forms from events happening and when event schedules aren't the focus or not happening, our website features allow you to still inform and engage users and capture their lead info year round or till your next event.
Learn More
The Problem
We knew from our research that brands were doing demo days, events, trade shows and in-store demos, but over 70% were not publishing these schedules anywhere online. The schedules we could find were lacking info, links didn't work and a lot of times it was just a Date/Venue....Is that really the way to get people to your event when your company is spending thousands to attend these events in the first place?
As consumers ourselves, we struggled to find these brand demo schedules, local event dates and in-store events.
We come from the bike industry and knew these events were happening and how important it is to get customers in the door of retailers; and that was the goal of most of these brands exhibiting, but why couldn't we find the info.
If I can't find the info as a digital entrepreneur how many regular customers does that really equal who also can't find the info?
The Solution
First we researched and analyzed how people are searching for products to buy. From our background in the bicycle industry, we knew there were people who were not going to buy a $6000 bike unless they were able to test ride it first. We've found the same to be true in other product industries from boats and Rvs to golf clubs, tennis rackets and things like skis, snowboards, and kayaks just to name a few.
We found that unless someone knows a brand name to search for, they start by searching for a product type. (Not good for non-endemic sales)
The same goes for retailers, events and venues; unless someone knows your name, they search in general terms and that can greatly affect the type of search results users get.
To utilize this discovery Demo Days is split into 4 main categories for users to search through;
- General Product Type(Brands)
- Major Events
- Local Retailers
- Venue Locations
A user can start searching for company profiles from one of those categories or they can search for content like events, news and products by location, name or product type.

It Starts With Your Company Profile
Fully Customized Profile
Far more powerful than social media posts. Insert links, videos, photos and more
Post Content
Create landing pages with rich media and content to engage users and help your profile be found in more searches
SEO Based System
Content is KING and so is SEO. Utilize built in custom SEO text settings to help search engines deliver your profile and content first, you can even get a custom domain name
Showcase Your Location
All profiles have the ability to showcase your location by google map
Capture Customer Leads
With a built in review and lead capture system, you can help grow your email list, answer customer questions and respond to reviews
Always FREE
Your profile will always be free and we hope you'll advertise with us or purchase our digital products like contests, exclusive video spots, newsletter blasts, sponsored social media posts and more
Page Creation
Step 1
Claim or create free profile page and select appropriate business category
Step 2
Post content with rich text, media and lead capturing functions
Step 3
Buy website advertising and features to capture more customers
Step 4
We publish your content on our social media channels and drive users to your profile
Sharing is Caring
DemoDays.com features are unmatched by any advertiser you work with. When you publish content, or pay us to do it ; ) we will share your posts on social media to help spread the word about what your company is doing.
Want to add more marketing leverage behind your content? Ask about our sponsored social media posts that can help you reach a more targeted audience and ad space to engage them once they land on your profile.
We Post Your Content on Social Media
More Brand Awareness & Customers For You
Your Move
Regardless of your business type the goal is the same, make it easier for customers to find you and make it easier for you to post content with the digital assets you already have produced.
Create a free profile and start promoting your company, brand, products, events and more.
It only takes a little bit of your time and marketing budget to reach new customers.
Business Join Here